Mitsubishi Mirage G4 Dashboard Lights and Meanings
Mitsubishi Mirage G4 is a subcompact sedan. Each Mirage G4 has a 1.2-liter three-cylinder engine that produces 78 horsepower and 74 pound-feet of torque. It claims a comfortable ride, excellent fuel economy, a large trunk, an attractive price, and a 10-year/100,000-mile powertrain warranty.
The dash warning lights on the Mitsubishi Mirage G4 variations of models such as gasoline, diesel, and PHEV. The fault lights may appear only as a symbol or appear in the information panel along with a message depending on your version of Mitsubishi Outlander.
When you turn on your Mitsubishi Mirage G4 for the first time, you may notice that several instrument panel lights come on and then quickly disappear. It is normal and is no cause for alarm. On the other hand, if any dashboard light blinks for more than a few seconds or stays fully lit, you should avoid driving until you can determine the potential threat.
The color-coded system is used on all Mitsubishi models to indicate the function and level of care that is needed when a particular symbol appears. The green/blue lights are used when a normal vehicle function like a turning signal is in use. Yellow/orange lights appear when a non-emergency problem is detected, while red warning lights are displayed whenever a serious malfunction occurs.
Many of the Mitsubishi Mirage G4's warning signs are illuminated with an ignition or engine start. This is a standard procedure, as many vehicle systems undergo a self-test. The Mitsubishi Mirage G4 dash warning lights on this page are detailed with the meaning of each symbol and what action you should take.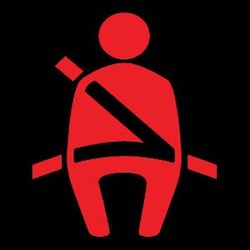 Mitsubishi Mirage G4 Seat Belt Reminder
The Mitsubishi Mirage G4 warning light on the PUSH SWITCH AFTER ATTACHING THE SEAT BELT indicates that the automatic brake restraint system does not come on because the driver's seat belt is not fastened. Press the automatic brake hold switch after fastening the driver's seat belt.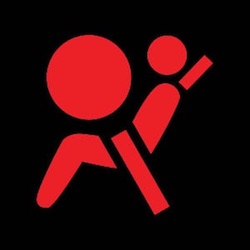 Mitsubishi Mirage G4 Airbag System
The service warning light on the Mitsubishi Mirage G4 airbag system indicates a failure in the supplemental restraint system (SRS) airbag or seat belt pretensioner system. Have the system repaired if:
1) The ignition switch or operating mode is ON and the SRS / airbag warning light does not come on or stays on.
2) The SRS/airbag warning light or the warning screen illuminates while driving.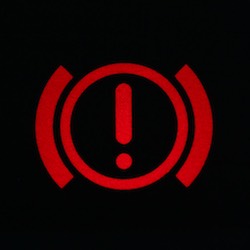 Mitsubishi Mirage G4 Hand Break or Break System
Stop immediately in a suitable place. Do not proceed driving as there is a fault in the Hand brake system. Contact Mitsubishi Mirage G4 for assistance.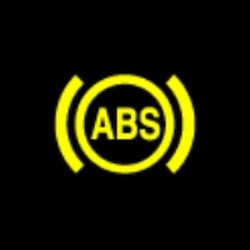 Mitsubishi Mirage G4 Anti-Lock Break System, ABS
The ABS warning light for Mitsubishi Outlander illuminates with the warning ABS SERVICE REQUIRED indicating a fault in the ABS system. ABS helps prevent wheels from locking up when braking. It is a separate system from the standard brake system, and regular brakes will continue to operate with an ABS failure. If the ABS light comes on, it is usually a faulty sensor. Avoid braking hard and at high speeds. When possible, stop and restart the engine to see if the fault goes away. If the fault light stays on, have the ABS system repaired by a Mitsubishi workshop as soon as possible.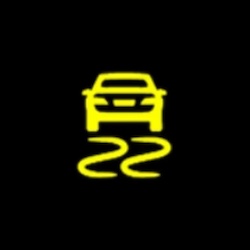 Mitsubishi Mirage G4 Dynamic stability control or DSC
A dashboard warning symbol a car with squaggly lines means is the 'Stability Control' and is often used in many models of many cars. The stability control program, also known as 'or dynamic stability control' combined various safety systems, traction control is one of them.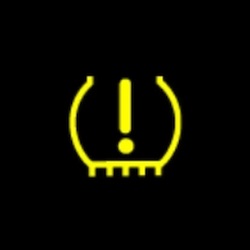 Mitsubishi Mirage G4 Tire Pessure
The tire pressure indicator light on the Mitsubishi Mirage G4 comes on when:
A tire is inflated. Depending on your version of Mirage G4, the low tire pressure warning message may appear. In this case, stop as soon as possible; avoid sudden steering or hard braking and replace the tire.
The tire pressure monitoring system (TPMS) is faulty. The warning light will blink for 1 minute, then stay on and, depending on your Mitsubishi Mirage G4 version, the warning message tire pressure monitor service required will be displayed.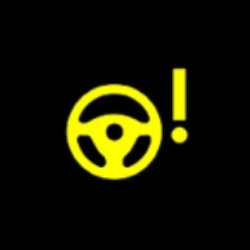 Mitsubishi Mirage G4 Steering System
The Mitsubishi Mirage G4 Electronic Power Steering warning light illuminates, possibly with the message "POWER STEERING SERVICE REQUIRED" when a system failure is detected. EPS works while the engine is running and its purpose is to reduce the effort required to turn the steering wheel. If EPS has a fault or is temporarily unavailable, you will notice that much more effort is needed to turn the steering wheel.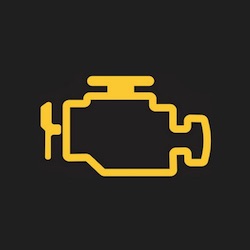 Mitsubishi Mirage G4 Engine Functions
The Mitsubishi Mirage G4's engine check warning light comes on when a fault is detected with the emissions, the engine control system, or the A/T control system/CVT control system. The vehicle is generally good to drive for a short period of time, but diagnose the fault as soon as possible. If the light starts flashing, have the vehicle checked immediately, as the catalytic converter can be damaged.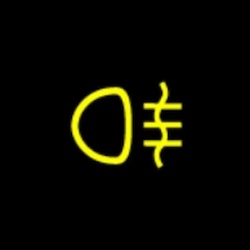 Mitsubishi Mirage G4 Rear Fog Lights
This symbol illuminates on the dash of Mitsubishi Mirage G4 indicating that the rear fog lights are on.
Mitsubishi Mirage G4 Lane Departure Warning Light
The LDW Service Required Warning Light of Mitsubishi Outlander indicates a fault in the Lane Departure Warning. The LDW system uses the same camera system as the previous FCM. The system may malfunction in extreme heat conditions or when the camera view is hidden. If after making sure that the camera is not overheating or if your eyesight is affected and the warning light stays on, have Mitsubishi check the LDW system.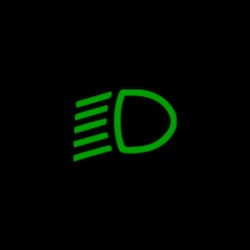 Mitsubishi Mirage G4 Dipped head lights
Alfa Romeo Giulia's dipped headlight symbol indicates that dipped light is on. It is basically used at nights. Pull the lever towards you for a temporary high beam, "Flash to pass" scenario.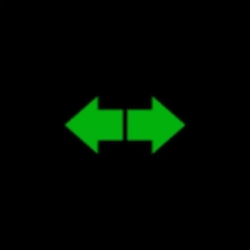 Mitsubishi Mirage G4 Turn Indicator
Green turn signals or indicators light is illuminated when the turn signal lever is moved up or down. All four lights flash when the hazard warning lights are activated.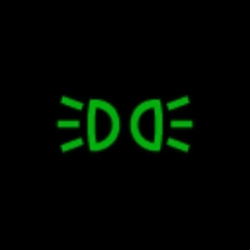 Mitsubishi Mirage G4 Side Lights, Low-Beam Head Lights
This sign Lit in green, this symbol lights up indicating that the position lights are on.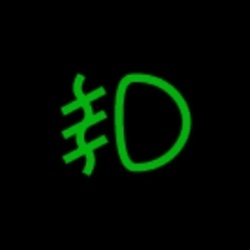 Mitsubishi Mirage G4 Front Fog Lights
This Mitsubishi Mirage G4 symbol illuminates on the dash indicating that the front fog lights are on.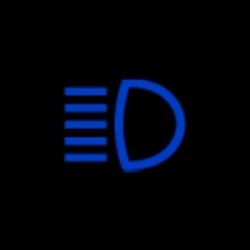 Mitsubishi Mirage G4 High-Beam Headlights
The blue high beam indicator light turns on when the high beams are activated.