GMC Acadia is a family SUV, but it looks far from it. The bold and athletic design makes it look good from the outside, and flexible third row and smart slide second-row seats make it impressive from the inside. It has a lot of space on the inside for you to enjoy your adventures.
GMC Acadia has got Adaptive Cruise Control and an Advanced Twin Clutch AWD system. This vehicle has been created with the help of advanced safety technology such as Rear Cross Traffic Alert and Lane Change Alert. There are a bunch of warning lights and indicators on the dashboard to alert you of everything.
These dashboard lights are crucial and help you to control your precious vehicle. Instead of guessing what a symbol dashboard means, scroll down and learn the meaning of various dashboard warning lights.
You must keep in mind that the red lights symbolize malfunctions that should be corrected immediately.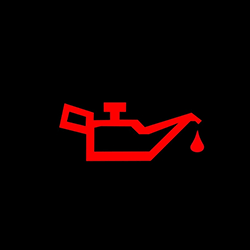 GMC Acadia Engine Oil Pressure Light
Low engine oil pressure triggers this red warning lamp. You can add fuel following the instructions from the owner\'s manual or immediately seek qualified assistance but don\'t drive when this red light is on.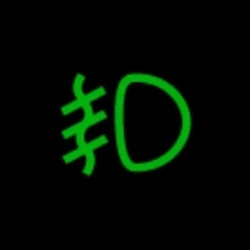 GMC Acadia Front Fog Indicator Light
When the fog lamps are switched on, this light comes on. Fog lamps are essential for safety measures, and you might also find a rear fog lamp indicator on your dashboard.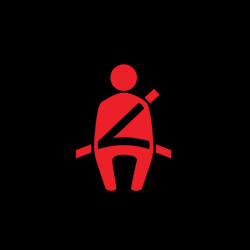 GMC Acadia Seat Belt Reminder Warning Light
You can probably figure out from the symbol; it is a reminder to fasten your seatbelt. This light won\'t go until you complete the task.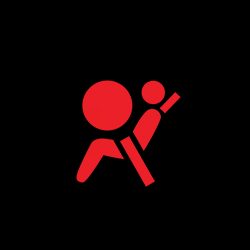 GMC Acadia Air Bag Warning Light
Airbags are essential for your safety when you are in a car. This light illuminates when the airbag system has a malfunction. Contact your authorized GMC dealer immediately.
GMC Acadia Hood Open Warning Light
You should quickly but safely stop the car and check why the hood has not been closed properly. The light will go off after it has been closed properly. If you fail to locate the problem, take your vehicle for service at a slow speed because you don\'t want the hood to fly away.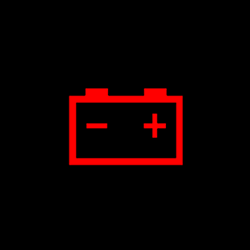 GMC Acadia Battery Charge Warning Light
When there is a problem with your car\'s charging or electrical system, this light will turn on. If you don\'t want your vehicle to stop in the middle of the road, carefully stop the car yourself, and seek roadside assistance.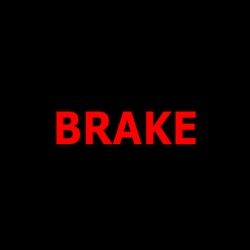 GMC Acadia Brake Warning Light
If you see this light when the emergency or hand brake is applied, it is normal. However, if this warning light turns on when the emergency brake is released, it indicates an error in the brake system. Driving without correcting this problem is very dangerous. Seek qualified assistance immediately.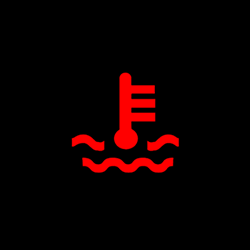 GMC Acadia Engine Coolant Temperature Warning Light
A high coolant temperature triggers this red warning light, and you should not continue driving without correcting the problem. Run the vehicle at idle or switch off the car so that the temperature can return to normal.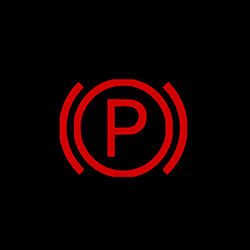 GMC Acadia Electric Parking Brake
It is normal for this light to turn on when you are engaging the parking brake. However, if you see this symbol when the Parking Brake has not been engaged. It means that the Electronic parking brake system requires service.
GMC Acadia ABS Warning Light
The Anti-lock Braking System helps you in slippery or extreme Braking conditions. You might not notice any difference immediately, but you should take your vehicle for service as soon as possible. ABS limits the locking up of the wheels.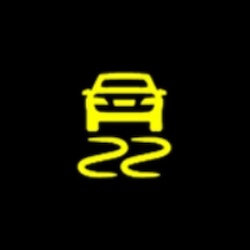 GMC Acadia Electronic Stability Control Active Warning Light
You might see two variations of this symbol. Electronic Stability Control is also there to ensure a safe driving experience. If you see the light flashing, it means that ESC is on. If the light is continuously on while driving, it means a malfunction is detected. If you see \"Off\" written on the symbol, it means that the ESC has been switched off.
GMC Acadia Tire Pressure Monitoring System (TPMS) Warning Light
A single tire low on pressure can affect the performance of the whole vehicle. This symbol appears when one or more tires have reduced pressure. Inflate the tire as soon as possible.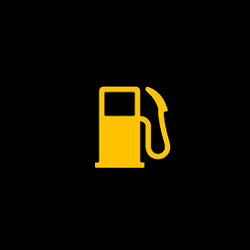 GMC Acadia Low Fuel Warning Light
Stop at the nearest filling station because this light Indicates low fuel in the fuel tank. Refill the tank so that you won\'t face a problem in the future.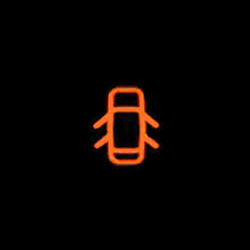 GMC Acadia Door Open Warning Light
Due to some reason, you have not closed one or more door properly. Check if something is stuck that is stopping the door from closing completely. Only take action after stopping the vehicle.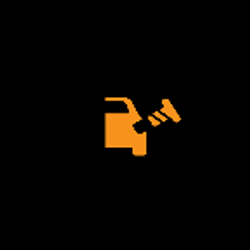 GMC Acadia Loose Fuel Filler Cap Warning Light
Your vehicle\'s fuel cap is not tightened completely. Stop the car and do the needful.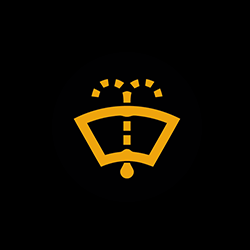 GMC Acadia Low Washer Fluid Warning Light
Fill the washer fluid reservoir. The light will go off once the reservoir has been filled.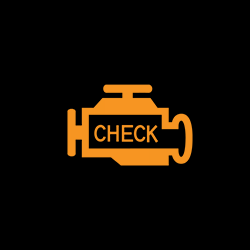 GMC Acadia Engine Check Malfunction Indicator Warning Light
Your GMC Acadia engine needs service as soon as possible. There can be various reasons that triggered this warning light, for example, an engine misfire. Do not ignore this light, or your engine will suffer significant damage in the near future.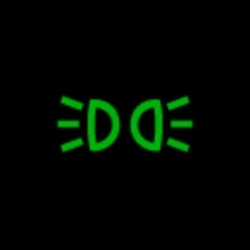 GMC Acadia Park Headlight On Indicator Light
This green light Indicates that the low beam headlights are active.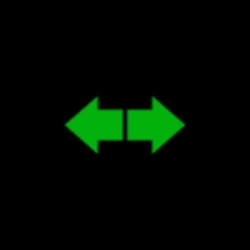 GMC Acadia Turn Signal Indicator Light
When you use a direction Indicator while making a turn, this light comes on. If it flashes at a faster pace than usual, get it checked as soon as possible.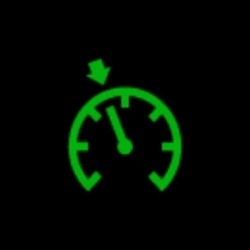 GMC Acadia Adaptive Cruise Control Light
Cruise Control makes the driving safer, and when this green light turns on, it means that the cruise control is active and working correctly.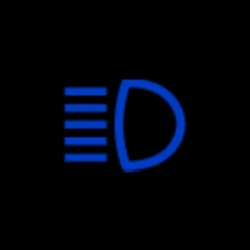 GMC Acadia High Beam Indicator Light
You will only see this light when your vehicle\'s high beams are active. If they are not active and the dashboard light is on, take your car for service as soon as possible.