You can bet on this compact SUV to make your adventures fun anytime and anywhere. It has also been awarded for receiving the lowest rate of reported problems in the J.D. Power U.S.
Vehicle Dependability Studies. The cabin is designed very thoughtfully that puts everything at your fingertips.
The Chevrolet Equinox include standard Chevy Safety Assist, which consists of a bundle of six advanced safety technology systems that helps you to detect and prevent the potential hazards before they can happen.
But it is vital to understand what the car is telling you otherwise you won't be able to prevent the hazards. You must focus on what a particular dashboard light means, and you will find their meanings in this guide.
Before we continue, the most important thing for you to know is that you should never ignore a red warning light and treat them sincerely. Yellow lights are also important as they tell you about the hazards that can happen after some time. Green ones do not Indicate threats to your car.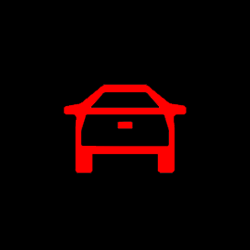 Chevrolet Equinox Vehicle Ahead Indicator
To prevent collisions, it is very important to maintain a safe distance from other cars on the road. This light helps you to do that as it turns on when you get too close to a vehicle ahead.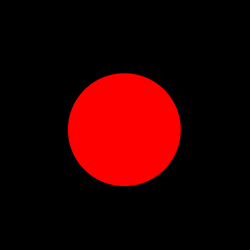 Chevrolet Equinox Vehicle Security Warning Light
It will come on for a few seconds when the engine is ignited. But if it stays on, it means that your Chevrolet Equinox has an error in the theft deterrent or other security-related system. Immediately take your Chevrolet Equinox to the service center.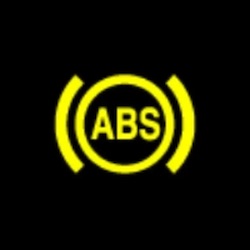 Chevrolet Equinox ABS Warning Light
Pullover safely as soon as possible and restart the vehicle to restart the ABS. If you see the light after restarting, your vehicle needs service and the malfunction need to be corrected. You can drive while the light is on, but the ABS won't help you, and this will make the drive risky.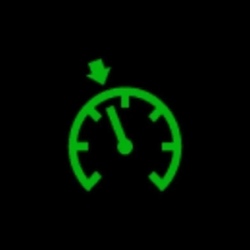 Chevrolet Equinox Adaptive Cruise Control Light
Green coloured cruise control symbol represents that the system is working properly while the white symbol represents that it is on and ready.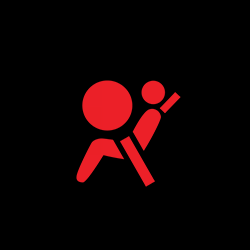 Chevrolet Equinox Air Bag Warning Light
A malfunction in the airbag system triggers this light, and it won't go off until the problem is corrected. Take your Chevrolet Equinox to the service centre and get the system fixed so that the airbags can protect you in case of an unfortunate accident.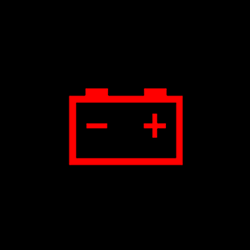 Chevrolet Equinox Battery Charge Warning Light
An error in the charging system or an electrical problem in the vehicle triggers this light. Immediately take your car for service or your vehicle will get damaged.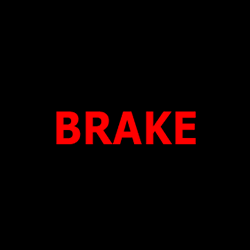 Chevrolet Equinox Brake Warning Light
A malfunction in the brake system triggers this light other than the lamp Check when you start the vehicle. It is highly dangerous to drive when this light is illuminating on your dashboard. Stop the car immediately and contact your dealer.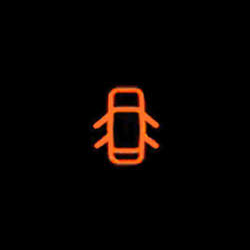 Chevrolet Equinox Door Open Warning Light
When the door or doors of your vehicle remain unclosed, this light comes on to remind you of that. Immediately stop the car and do the needful.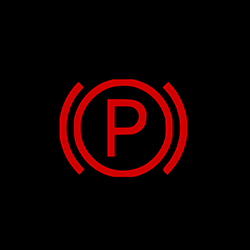 Chevrolet Equinox Electric Parking Brake
It turns on when the parking brake is applied but if this symbol illuminates otherwise, take your Chevrolet Equinox to the service center as there is an error in the parking brake system.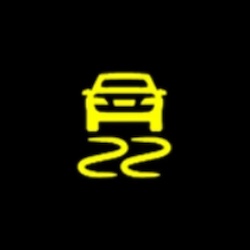 Chevrolet Equinox Electronic Stability Control Active Warning Light
ESC is one of the most important parts of the vehicle that gives you a safe driving experience. A problem in the ESC is Indicated when this light is on and not flashing. It should continuously blink, that means the ESC is on and working properly. When you see "off" written on the symbol, it means merely that ESC has been turned off.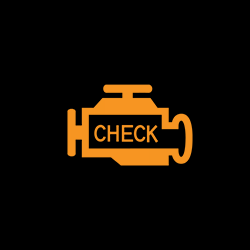 Chevrolet Equinox Engine Check Malfunction Indicator Warning Light
This symbol looks like an engine, and it lights up when the vehicle malfunction detection system had detected an error in the engine. You must take your vehicle for service as soon as possible. Don't ignore this light as it can damage the engine.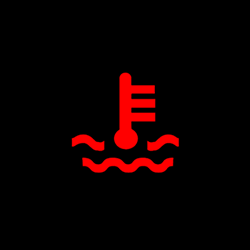 Chevrolet Equinox Engine Coolant Temperature Warning Light
When the coolant temperature increases more than the average temperature, this warning symbol lights up. Make sure that you stop the car long enough to cool it down because using the vehicle while this light is on is against your safety. Take roadside assistance if necessary.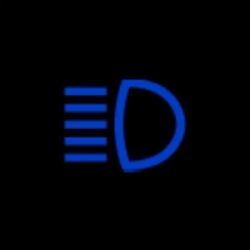 Chevrolet Equinox High Beam Indicator Light
When high beam headlights are active, this light comes on.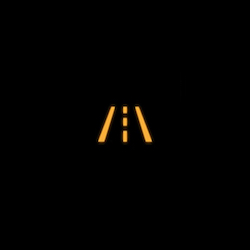 Chevrolet Equinox Lane Departure Warning
Every time you cross a lane, you must use the proper Indicators to signal it. When you don't signal, this light turns on.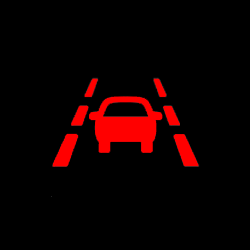 Chevrolet Equinox Lane Keep Assist Warning Light
A green LKA symbol represents that the Lane Keep Assist system is working. A red LKA symbol represents an error in the system. Take your vehicle for service immediately when the light is red.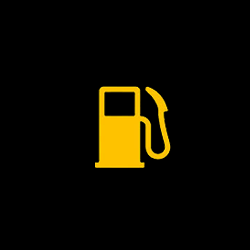 Chevrolet Equinox Low Fuel Warning Light
You will see this light on your dashboard when the fuel level is low in the fuel tank. You should refill the tank at the nearest filling station.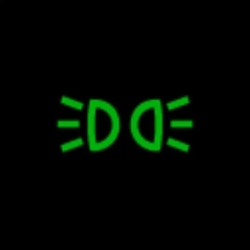 Chevrolet Equinox Park Headlight On Indicator Light
When exterior lamps are active, this symbol lights up. Turn off the external light, and the dashboard light will also turn off.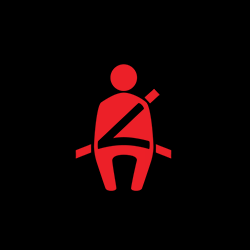 Chevrolet Equinox Seat Belt Reminder Warning Light
You should never forget to fasten your seatbelt when you get in a car. This symbol lights up to remind you that it will go off only when the seat belts are fastened.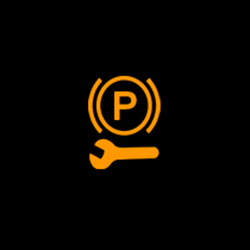 Chevrolet Equinox Service Electric Parking
Your vehicle's parking brake system requires service, that is what this light symbolises. Don't ignore it and get it corrected as soon as possible otherwise you will face problems with the parking brake in the future.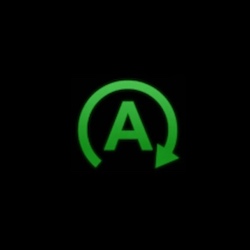 Chevrolet Equinox Service Stop Start System Warning Light
When the engine is turned off by the system due to inactivity for some time, for example, during a traffic jam, you see this light on your dashboard.
Chevrolet Equinox Tire Pressure Monitoring System (TPMS) Warning Light
An underinflated tire triggers this light. It is not necessary that only one tire is underinflated; there could be more than one. Safely pull over and check the tires. Inflate the underinflated tires because underinflated tires affect the performance of your car.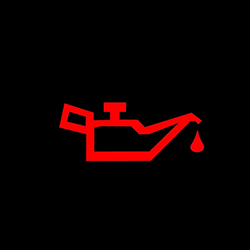 Chevrolet Equinox Engine Oil Pressure Light
Improper flow of oil or low level of oil can trigger this red warning light. Never drive the car when this light is on. Seek qualified assistance to correct the oil pressure and then only you are advised to continue driving.