Volkswagen Passat Dashboard Lights and Meanings
The Volkswagen Passat is powered by a 2.0-liter diesel engine that makes 177PS / 350Nm. It is mated to a 6-speed DSG gearbox. Volkswagen Passat claims a fuel economy of 17.42kmpl.
These are the warning lights for the Volkswagen Passat. The Passat Dashboard Warning Light Guide below can be used to understand the various warning symbols that may light up due to a fault, a maintenance problem, or a vehicle system that has been turned on or off.
Serious or urgent warning lights generally illuminate red, may also flash, or be accompanied by an audible signal. To avoid possible vehicle breakdown or occupant safety risk, always take immediate action if a warning light comes on.
The Volkswagen Passat dash warning lights help you to understand failure in your vehicle. They can prevent a car from a breakdown or total failure, which can save you from an expensive repair bill. If these lights are working correctly, no warning light is illuminating; it means you stay safer on the road.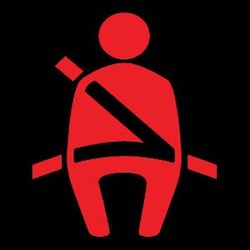 Seat Belt Reminder in Volkswagen Passat
The red seat belt warning light on Volkswagen Passat illuminates along with an audible alarm notifying the driver, and front passenger must fasten their seat belts.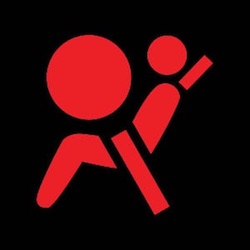 Airbag System in Volvo XC40
The remaining airbag warning light on indicates a failure of the airbag system and seat belt tensioner system. Flashing of the airbag warning light indicates that at least one airbag or strap tensioner was switched off by a diagnostic device. In this case, the airbag warning light stays on for about 4 seconds and then blinks for about 12 seconds. Go to a VW workshop to correct the fault or reactivate the airbag system.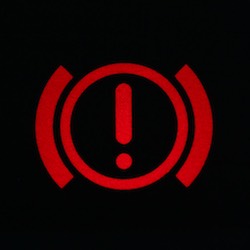 Hand Break or Break System in Volkswagen Passat
The VW Passat red exclamation system represents the parking brake being applied. If the brake warning light comes on while driving, it indicates a fault in the brake system or a low level of brake fluid. If the brake fluid level is correct, it is recommended that you do not continue driving and seek help from a VW workshop.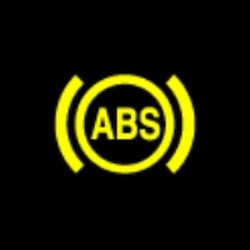 Anti-Lock Break System, ABS in Volkswagen Passat
The anti-lock braking system is a brake support feature that prevents wheel lockup during heavy braking. It means that the driver can continue driving. The ABS warning that remains lit indicates a system failure. The failure is usually due to the wheel sensors. You can continue driving but without the ABS support braking characteristics.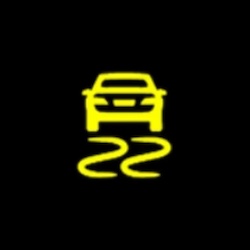 Dynamic stability control or DSC in Volkswagen Passat
The Electronic Stability Control system is a stability aid that helps improve traction and vehicle stability by using ABS and, when necessary, reducing engine performance. The ESC light will blink when the system actively stabilizes the vehicle. If the light stays on permanently, it indicates a fault in the ESC system. ESC shares components with the ABS system and, therefore, could be a related error.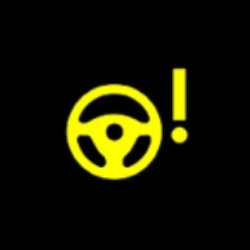 Steering System of Volkswagen Passat
The yellow electromechanical steering warning light indicates a partial malfunction in which you can continue to drive the vehicle unless the warning light continues to flash with the ignition on or the steering column remains locked with the ignition put on.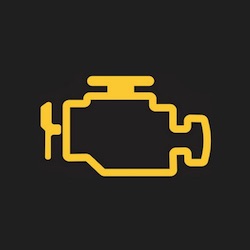 Engine Functions of Volkswagen Passat
This exhaust system fault warning light, also known as the engine check light, illuminates due to engine failure. The VW Passat check engine warning light glows steadily, indicating that the engine is not running smoothly. There may be an increase in fuel consumption and exhaust emissions. Drive at a steady pace, avoid high engine loads. If the failure occurred immediately after refueling, shut off the engine to prevent damage. Contact a VW workshop for help. A flashing engine warning light is an indication of a misfire. Failures in the exhaust management system can cause damage to the catalytic converter. Drive carefully and check your vehicle to your nearest VW workshop.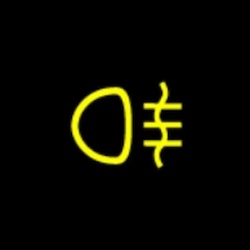 Rear Fog Lights of Volkswagen Passat
This symbol represents the rear fog lights of  Volkswagen Passat being switched on.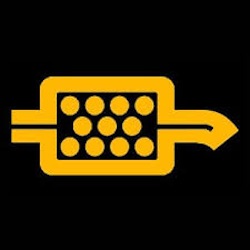 Particulate Filter of Volkswagen Passat
For the diesel versions of the Volkswagen Passat, the Diesel Particulate Filter (DPF) collects harmful soot that would otherwise be discharged into the surroundings. Sometimes this requires cleaning, a process that is done automatically. If you primarily use your car for short trips, the filter may need driver assistance to clean more frequently.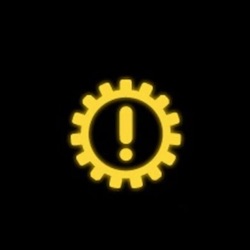 Gearbox or Clutch of Volkswagen Passat
The yellow cog symbol indicates that the gearbox is overheating and that the DSG dual-clutch gearbox is too hot. You must get off the road, stop and put the gear selector in the 'P' position to allow the gearbox to cool down. Do not drive until the warning light goes out.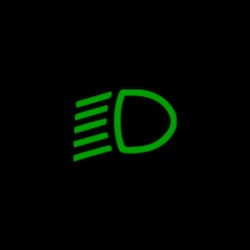 Dipped head lights of Volkswagen Passat
Volkswagen Passat's dipped headlight symbol indicates that dipped light is on. It is basically used at nights. Pull the lever towards you for a temporary high beam, "Flash to pass" scenario.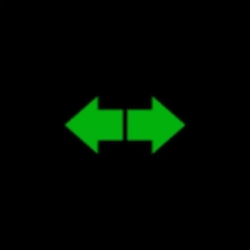 Turn Indicator of Volkswagen Passat
The turn indicator symbols represent the indicator is switched on of  Volkswagen Passat.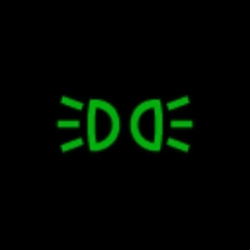 Side Lights, Low-Beam Head Lights of Volkswagen Passat
This Volkswagen Passat dashboard warning light informs the driver that the exterior lights/sidelights/parking lights/headlights are switched on.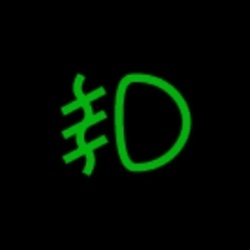 Front Fog Lights of Volkswagen Passat
This symbol represents the front fog lights of Volkswagen Passat being switched on.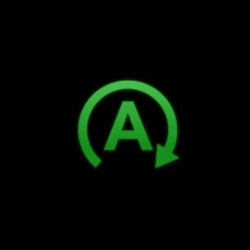 Start or Stop of Volkswagen Passat
The green engine start-stop indication light illuminates when conditions are correct for automatic engine standby mode to start. If the circumstances are not suitable for the automatic start-stop, the amber light on the VW Passat Engine Start Stop will not light up. Many reasons inhibit engine shutdown.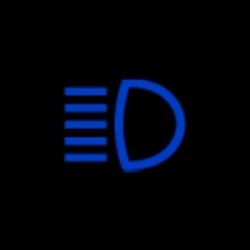 High-Beam Headlights of Volkswagen Passat
Volkswagen Passat's high beam headlight symbol indicates that high beam headlights are on. Keep the multifunction control lever away from you to switch the headlights to a higher beam.