The Volvo XC60 is a luxury compact crossover SUV manufactured and marketed by Swedish automaker Volvo Cars since 2008. It is a part of Volvo's 60 series of cars. The first-generation model introduced a new style for the 60 series models.
Here we cover the dash warning lights for the Volvo XC60, which has been manufactured since 2008 and is currently in its second generation. The Volvo XC60 dashboard warning lights listed below apply to both current first and second generations, including all model variants. The design of the dash display and the location of the warning lights vary depending on the XC60 model.
The various warning lights and symbols are used to alert the driver that a certain function has been activated, deactivated, that a system is working, or that there is a fault. If you are not sure what a warning light means, especially if the symbol is red, we recommend that you stop the vehicle safely for more information.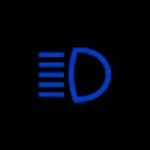 Volvo XC60 High-Beam Headlights
Volvo XC60\'s high beam headlight symbol indicates that high beam headlights are on. Keep the multifunction control lever away from you to switch the headlights to a higher beam.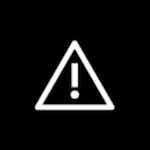 Volvo XC60 General lights
The warning triangle on the Volvo XC60 containing an exclamation mark/sign indicates that a fault has been detected, which may affect the safety of the vehicle occupants or may cause damage to the vehicle.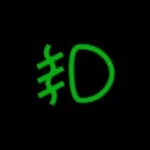 Volvo XC60 Front Fog Lights
This symbol represents the front fog lights of  Volvo XC60 being switched on.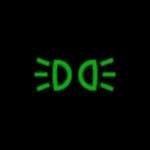 Volvo XC60 Side Lights, Low-Beam Head Lights
This Volvo XC60 dashboard warning light informs the driver that the exterior lights/sidelights/parking lights/headlights are switched on.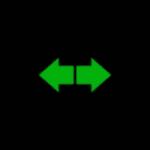 Volvo XC60 Turn Indicator
The turn indicator symbols represent the indicator is switched on of  Volvo XC60.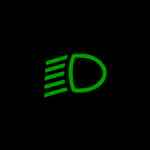 Volvo XC60 Dipped head lights
Volvo XC60\'s dipped headlight symbol indicates that dipped light is on. It is basically used at nights. Pull the lever towards you for a temporary high beam, \"Flash to pass\" scenario.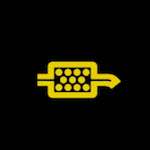 Volvo XC60 Particulate Filter
This sign tells you that there is a problem with your car\'s particulate filter. It is fitted to diesel cars to reduce emissions, reducing the amount of soot released through the car\'s exhaust system.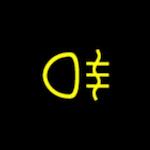 Volvo XC60 Rear Fog Lights
This symbol represents the rear fog lights of Volvo XC60 being switched on.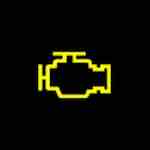 Volvo XC60 Engine Functions
The Volvo XC60 emission control system observes toxic exhaust emissions. This warning light referred to as the \'check engine\' light is an indication that a failure has occurred in the emission control system. You may mark an increase in fuel consumption. If the warning light is blinking or you notice that the motor is not working correctly, seek urgent assistance.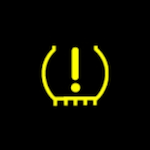 Volvo XC60 Runflat indicator RPA
The Volvo XC60 tire pressure system sign will illuminate in two cases: If Steady light illuminates, that indicates one or more vehicle tires have lost significant pressure. Stop as soon as possible, check the tires, and, if necessary, change the wheel. If the light blinks for approximates a minute later, it stays on to indicate that the tire pressure system is malfunctioning.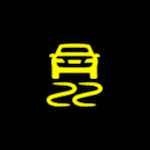 Volvo XC60 Dynamic stability control or DSC
Volvo XC60 Electronic Stability Control helps the driver avoid skidding and improves traction when accelerating. ESC is activated whenever the engine is started. ESC consists of Stability control, Traction control, Engine drag control, and Trailer stability assistance. The ESC cannot be disabled entirely, but when sport mode is activated, the ESC intervenes less than usual, allowing the driver a little more flexibility in driving. When sports mode is enabled, ESC OFF light will illuminate.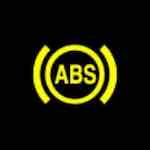 Volvo XC60 Anti-Lock Break System, ABS
The Volvo XC60 ABS warning light generally lights up in amber. ABS prevents wheels from locking when braking hard or braking on a slippery surface. ABS (Antilock Brake System) symbol letters may appear depending on your vehicle.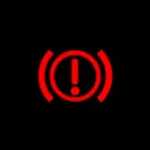 Volvo XC60 Hand Break or Break System
The exclamation mark inside a circle indicates a problem with the parking brake. Depending on your location, the red Volvo XC60 BRAKE symbol may appear. Brake symbol Control panel Warning light. A low battery charge may be the possible cause that the parking brakes cannot be applied or released. Connect an auxiliary battery to the vehicle to allow the brakes to be released if necessary.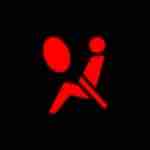 Volvo XC60 Airbag System
The Volvo XC60 airbag warning light comes on for a short time only when the engine has started. If the light stays on or illuminate while driving, a fault has been detected.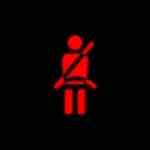 Volvo XC60 Seat Belt Reminder
The red seat belt warning light on Volvo XC60 illuminates along with an audible alarm notifying the driver, and front passenger must fasten their seat belts.